TIGHE CAMS HILLCLIMB, ROUND 3, 23rd & 24th July 2011.
The third round of the Series was run in wonderful Qld Winter weather and there were a large number of appreciative spectators all eager to watch the 95 competitors that had entered this round.
This round had 5 rotary hillclimb racing cars running in 2 different classes.
Marque Sports – 2001cc & over.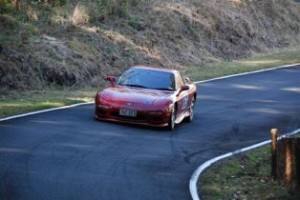 Cameron Hurman running his series 6 Mazda RX7 ran all 7 runs over the two days. He started on Saturday at 50.65 sec for the first run and got down to his best time for the weekend which was on the very last run on Sunday with a time of 49.75 sec this time was quicker by .51 than the best time he posted in round 2 of the series.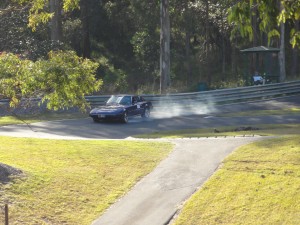 Simon Witt running his series 1 Mazda RX7 the photo above shows Simon breaking hard off the 2nd loop into the hairpin. Simon also ran 7 runs over the two days. His first run on Saturday was 53.74 sec and he trimmed that down to his best time for the weekend which was also on the very last run on Sunday with a time of 51.46 sec. Simon has missed a few rounds this year but we hope to see him at the next round.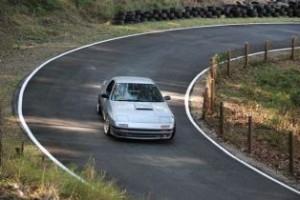 Christopher Sharman in his series 4 RX7 was competing for the first time and improved from his first run on Saturday of 57.13 sec down to a 51.46 also on the last run of the day on Sunday. We hope that Christopher gets the bug and is back running his rotary at the next hillclimb.
This class was dominated by Mark Crespan in his very fast Cobra, Mark set a new record for this class an extremely quick time of 44.55 sec well done Mark keep up the great work. (Although this car is not a rotary it was still worthy to be mentioned in this blog)
Formula Libre – 1301cc & over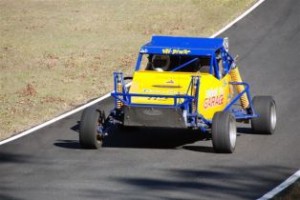 John Moore in his Hijinx Buggy (12A Turbo) did not run on the Saturday but posted a 53.30 sec run for his first run on Sunday. John's best run was on his 3rd run on Sunday with a time of 46.54. John had traction problems due to incorrect tire pressures but he sorted this out and other than a clamp falling off the exhaust John had a good Hillclimb.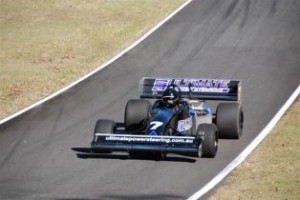 Warwick Hutchinson in his racing car (RPV02) did not run on the Saturday dew to family commitments. His first run on Sunday was 42.45 sec and he managed to trim that down to a 39.35 on his 3rd run. This was exactly the same time he posted in the top six shoot-out at the end of the day, it is not very common that the same time is run by the same person on the same day.
There were 5 Rotary Hillclimb Racing Cars competing in this round of the series, their best times are listed below.
Cameron Hurman (Mazda RX7) 49.75 – (5th in Class & 39th Outright)
Christopher Sharman (Mazda RX7) 50.99 – (6th in Class & 49th Outright)
Simon Witt (Mazda RX7) 51.46 – (7th in Class & 53rd Outright)
John Moore (Hijinx Buggy) 46.54- (3rd in Class & 14th Outright)
Warwick Hutchinson (RPV02) 39.35 – (1st in Class & 1st Outright)
Top Six Shootout Results were –
1st Warwick Hutchinson (RPV02 13B Turbo) – 39.35
2nd Paul Van Wijk (BKZ07) – 43.62
3rd David Homer (Suzuki Swift) – 43.77
4th Terry Johns (Esprit Sports 1300) – 44.11
5th Brian Kirkby (BNG #1) – 45.97
6th John Boyce (Kaditcha VW) – 46.17
Come along to the Leyburn Street Sprints to see the Rotary Hillclimb Racing Car RPV02 run around the houses at Leyburn on the 27th & 28th August.
"CLICK HERE" to visit the Leyburn Sprints Website.
The next hillclimb event is Round 4 of the series at Mt Cotton on the 3rd & 4th Sept. 2011.
Some of the photos on this entry were supplied by "Steve Johns" – via the MGCCQ website.
"CLICK HERE" to visit the MG Car Club – web site.