Historic Noosa Hillclimb 9th & 10th Nov. 2013.
This Hillclimb was run jointly by the Historic Racing Car Club and the Noosa Beach Classic Car Club's, once again both clubs need to be congratulated on a great weekend of Hillclimbing they even organized fantastic weather for both days well done and all your hard work is greatly appreciated.
Saturday's first unofficial run started at around 8.30am with most people running managing to stay out of trouble but a few cars had some issues, one of the cars that was damaged was Allan McConnell in his open-wheeler. Allan sustained front & rear suspension damage that could not be fixed and could not run for the rest of the weekend.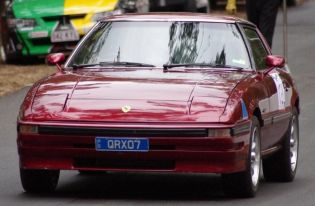 With very hot weather the entrants were all hoping to get good times over the 2 days of competition and due to the well run event and the officials everyone had 9 official runs this was the most amount of runs ever for the history of this event.
This year with 142 cars taking part in this event there was a good entry of 5 Rotary Hillclimb Racing Cars entered in this Hillclimb, Scott Trenoweth (Mazda RX7 – 13B), Lou Szekely (Mazda RX7 – 13B), Ken Luxton (Mazda RX7 – 12A), Blake Morgan (Mazda RX7 – 12A) and Warwick Hutchinson's (RPV02 13B Turbo) their best times are listed below. (more…)