Making Wet weather Tyres out of old Slicks.
After running this new car for over 1 year and running a hillclimbs in the wet with full slicks, I thought that I would try to reduce the risk of rain at up-coming Hillclimbs by making a full set of wet weather grooved slicks. Hopefully just like when ironically after you have washed your car that it rains, I hope that when I actually have wet tyres that it will reduce the possibility of rain.
To do this I looked at different designs of the grooved wet weather tyres that are currently being used in motorsport. After much consideration I designed my own profile to cut grooves.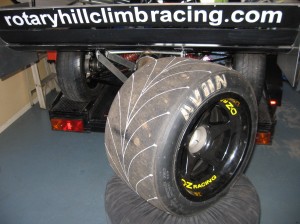 Firstly I marked-out the design that it wanted onto the front tyres with white marker pen. (more…)